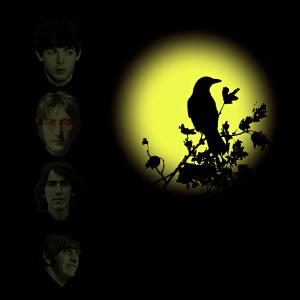 "Blackbird" is a song by the Beatles, but performed as a solo effort by Paul McCartney, from their 1968 double album The Beatles (also known as "the White Album"). The song was written by McCartney, though credited to Lennon and McCartney. McCartney has stated that the lyrics of the song were inspired by the unfortunate state of race relations in the United States in the 1960s.

In May 2002, following a show in Dallas, Texas, McCartney discussed the song with KCRW DJ Chris Douridas, saying:

I had been doing some [poetry readings] in the last year or so because I've got a poetry book out called Blackbird Singing, and when I would read "Blackbird", I would always try and think of some explanation to tell the people. So, I was doing explanations, and I actually just remembered why I'd written "Blackbird", you know, that I'd been, I was in Scotland playing on my guitar, and I remembered this whole idea of "you were only waiting for this moment to arise" was about, you know, the black people's struggle in the southern states, and I was using the symbolism of a blackbird. It's not really about a blackbird whose wings are broken, you know, it's a bit more symbolic.

Before his acoustic guitar set during the same US tour, McCartney explained that "bird" is British slang for girl, making "blackbird" a synonym for "black girl".